What's On: Your guide to the week
The week of January 23 to 29 in volleyball and beach volleyball
Gepubliceerd 12:00, 23 Jan 2023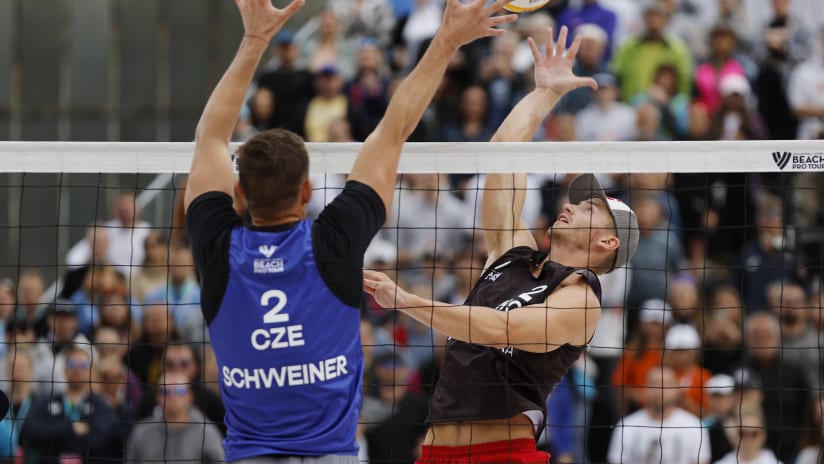 These are the events around the world you can't miss this week.
It will be a big week for international beach volleyball as the ten top teams per gender will clash in Doha, Qatar at the inaugural edition of the Volleyball World Beach Pro Tour Finals. The participants will play for the title of Beach Pro Tour champions and a share of the massive 800,000 US Dollar prize purse.
There's a lot to follow on the indoor courts too, especially in Italy, where the women will be battling in the Coppa Italia and the men splitting their efforts between the SuperLega and the CEV Champions League. National leagues in several countries, including Brazil, Türkiye and Japan will also feature exciting matchups over the next few days.
Here's our guide to help you navigate this week's volleyball:
Women's Coppa Italia
Watch on Volleyball TV
The 45th edition of the Women's Coppa Italia will take place this week, with the first quarterfinal match on Tuesday and the semifinals and finals in Bologna on Saturday and Sunday. Defending champions Prosecco Doc Imoco Volley Conegliano, Igor Gorgonzola Novara, Savino Del Bene Scandicci, Vero Volley Milano, Trasportipesanti Casalmaggiore, Volley Bergamo, Reale Mutua Fenera Chieri and Cuneo Granda S. Bernardo are the participating teams. Read more here.
Brazilian Women's Superliga: SESI Bauru vs. Gerdau Minas – 19:00 local time (Wednesday, 01:00 UTC)
Two of the top teams in the Brazilian Superliga will face each other in the 13th round of the regular season. SESI, who have Olympic champion setter Dani Lins in their squad and are ranked seventh in the league, fell to Osasco Sao Cristovao Saude on Friday, while Minas, who have veterans Thaisa Menezes and Carol Gattaz in their team, as well as Brazilian national team revelations Kisy Nascimento and Julia Kudiess, moved up to fourth after their win over Energis 8 Sao Caetano on Saturday.
CEV Men's Champions League
The CEV Champions League is set to complete pool play for the men on Wednesday, with ten matches to be played on Wednesday. Italian clubs Sir Safety Susa Perugia, Trentino Itas and Cucine Lube Civitanova and Polish club Jastrzębski Węgiel remain undefeated after five matches and will try to keep their pool play record perfect against Germany's SWD Powervolleys Düren, Belgium's Knack Roeselare, Poland's Grupa Azoty Kędzierzyn-Koźle and Germany's VfB Friedrichshafen respectively.
Beach Pro Tour Finals in Doha, Qatar
Watch on Volleyball TV
The season-ending event of the 2022 season, the Beach Pro Tour Finals take place in Doha, Qatar, from Thursday to Sunday. The tournament will reunite the top ten teams per gender, and will feature exciting duels right from the start. Some of the teams set to play in the event include Qatar's Cherif Younousse/Ahmed Tijan, Norway's Anders Mol/Christian Sørum, Brazil's Eduarda 'Duda' Lisboa/Ana Patricia Ramos and USA's Kelly Cheng/Sara Hughes. Read more here.
Argentinean Men's League
The fifth leg of the Argentinean Men's National League will take place from Thursday to Sunday, with 18 matches in Formosa. Ciudad Voley, Tokyo Olympic bronze medallist Facundo Conte's team, will be one of the attractions – the team take on Banfield on Friday, Amuvoca Voley on Saturday and River Plate on Sunday.
Turkish Women's League – Fenerbahçe vs. Sariyer – 14:00 local time (11:00 UTC)
Turkish giants Fenerbahçe continue to compete for the top spots in the country's national league and will play to get their 12th victory in 16 matches on Friday. The team of veterans Macris Carneiro and Eda Erdem and revelation Arina Fedorovtseva is strengthened by the return of opposite Melissa Vargas, who recently helped her former team Tianjin win the Chinese League. The Sariyer team will count on the Thai outside hitter duo of Chatchu-On Moksri and Ajcharaporn Kongyot as one of their main assets.
Japanese V. League
Japanese clubs will be in full action over the weekend, with ten men's and 12 women's matches to be played between Saturday and Sunday. Men's leaders Wolfdogs Nagoya and Polish star opposite Bartosz Kurek will be up against tenth-placed Nagano Tridents on both days while on the women's side the most exciting duel should be the one between third-placed NEC Red Rockets, who feature star outside hitter Sarina Koga, and Belgian opposite Lise van Hecke's fourth-placed Hisamitsu Springs.
SuperLega Credem Banca - Itas Trentino vs. Vero Volley Monza @ 18:00 local time (17:00 UTC)
Watch on Volleyball TV
A full round of matches is set to take place on Sunday, with all six duels of the weekend starting at the same time. One of the most interesting matchups is the one reuniting third-placed Trentino and sixth-placed Monza. Four Italian world champions will be on the court with Riccardo Sbertoli, Alessandro Michieletto and Daniele Lavia representing Trentino and Gianluca Galassi playing for Monza. Read more here.